Al-Madinah free school payment to be 'passed to police'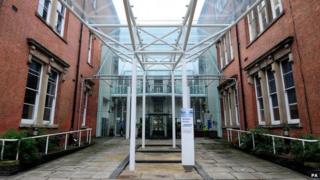 Accounts at the Al-Madinah free school in Derby show a former employee received an unauthorised overtime payment of about £12,000.
The school, described last year as "dysfunctional", is now said by Ofsted to be making "reasonable progress".
The disputed money was paid to the school's co-founder Shahban Rehmat, who has since been sacked.
The BBC understands the school, under the management of a new trust board, is set to pass the matter to police.
The £12,430 payment was approved by the former chair of trustees Shazia Parveen, who left in January.
'No pens, crayons'
Mr Rehmat, who was removed from his job as director of facilities, declined to be interviewed or to respond to the allegations.
The former governor, who stepped down in January, claimed to be involved in legal proceedings with the school which is denied by the current trust.
Ms Parveen also declined to be interviewed, but said she only ever authorised payments which had already been agreed by the school.
The Department for Education said all free schools were held to account and were subject to greater scrutiny and financial accountability than council-run schools.
The trust board said proper accounting systems were now in place at Al-Madinah.
The Inside Out East Midlands programme broadcast on Monday also revealed that a former teacher said that during her time at Al Madinah she had to use her own library card so the children had access to books.
Children also had no pens, crayons or exercise books.