Kadeem Blackwood murdered 'over beef between gang members'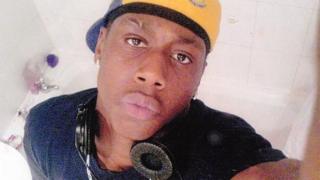 A man has told a murder trial how he witnessed a 15-year-old boy being shot because of "beef" between members of two rival gangs.
The witness heard a loud bang and saw Kadeem Blackwood collapse in Caxton Park, Derby.
The murder was six years ago, and A1 Crew member Callum Campbell, who was 18, has admitted pulling the trigger.
His friend Michael-Paul Hamblett-Sewell is on trial for a third time for murder, which he denies.
Witness Damir Semiz, who had been walking near the park with his girlfriend, told Nottingham Crown Court that he called 999 and stayed with Kadeem until an ambulance arrived.
'Wasn't responding'
He said the incident was very distressing for him.
"He was holding his chest and he dropped to the floor," said Mr Semiz. "I walked towards him. He was breathing quite heavily. His eyes started rolling towards the back of his head.
"He had blood coming out of his mouth. There were particles of blood on his coat, in his chest area. I screamed out to him to see if he was awake but he wasn't responding."
Mr Semiz said there had been members of two gangs in the park - the A1 Crew and BCT, which stood for Browning Circle Terrorists.
He knew some of the young men and had heard there was going to be a fight.
"Someone said they've got beef," Mr Semiz told the trial.
Kadeem was murdered on the evening of 11 November 2008. Mr Hamblett-Sewell, then 19, was arrested the morning after and interviewed by police several times.
He accepted being in the park when Kadeem, who he called Snipez, was shot. However, he claimed he did not know the identity of the person who shot Snipez, as he was wearing a hooded top and had a bandana over his face.
The case continues.