Royal Derby Hospital A38 roadworks causes delays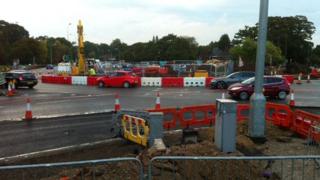 Ambulances and staff at the Royal Derby Hospital have said they face delays due to works on a busy city road.
Work on Markeaton roundabout on the A38 began in July, but the Highways Agency says is waiting for Severn Trent to install a water pipe.
As well as general congestion, NHS staff have said they face waits of up to 90 minutes to leave work.
East Midlands Ambulance Service (EMAS) said it faced delays, but expected faster times when work was completed.
Traffic blockage
The work is part of a £4m project to relieve "pinch points" on the A38 involves new traffic lights and wider lanes.
The Markeaton phase was due to end in October, but Severn Trent has used the opportunity to replace a major pipe.
Staff at Royal Derby Hospital have complained that traffic backing up blocks the site exit, with one saying it was "an accident waiting to happen".
EMAS acknowledged the problems but said it hoped it would be worth it in the long run.
A spokesman said: "Our frontline crews are very experienced in dealing with traffic congestion and the vast majority of motorists do all they can to allow our vehicles to pass through without delay.
"We are hopeful that the road works will improve traffic flows in the area because, in the longer term, this will be beneficial."
Both the Highways Agency and Severn Trent Water have apologised.