Alfreton tornado: Homeowner to have parts of house rebuilt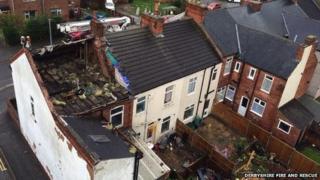 A man who returned home from work to find his house had been ravaged by a tornado will have to pull down the entire side wall to make it safe again.
The home on Catherine Street, Alfreton, was one of three properties severely damaged when the tornado ripped through the Derbyshire town on Wednesday.
William Sitch arrived back home at 16:45 BST to witness the devastation.
His partner's son said: "He's gutted and in shock. It's not something that you think would happen in Alfreton."
'Like a movie'
Oli Constable, 19, said: "I saw stuff about the tornado on social media and showed my mum.
"She thought I was joking and then later she got a call from William and we found out that it had happened."
Mr Constable added: "Structural engineers said it was unstable last night.
"William has been down today and he's not really digested all of the information yet but is relieved that inside it's not too bad and everything is salvageable.
"There's a lot of water up there and now the main priority is to make it water tight."
The work to replace the wall and roof will be covered by Mr Sitch's house insurance.
The fire service said 30 other properties and vehicles also suffered damage from flying bricks and debris.
The Met Office confirmed a tornado, caused by volatile and unstable air, had hit the town at about 15:30 BST.
Witnesses said they saw a tornado ripping down lampposts and trees in Mansfield Road and Catherine Street.
Dean Gazzard, station manager at Derbyshire Fire and Rescue, thanked the Salvation Army for its help in responding to the tornado.
He said: "We have had strange weather before and high winds where individual properties have been damaged, but never a tornado, and never a whole street that has been affected like that."
Jerome Alford, who lives in Mansfield Road, said houses on the opposite side of the street were left untouched.
"The wind started picking up and pulling bits of the roof away," he said.
"It was like watching a movie."