Derby City Council criticised over switchboard cuts 'propaganda'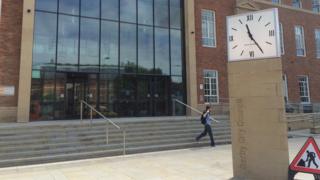 Derby City Council has been accused of "force feeding propaganda" by putting a 45-second message about government cuts on its switchboard.
The Labour-led authority's monologue tells callers about savings targets before they are given menu options.
The opposition Conservative group said many taxpayers would be angered by the "anti-government message".
But deputy council leader Martin Rawson said the recording was "a statement of fact".
He refused to apologise, saying: "It was a collective decision by the (Labour) leadership to put the message on there because we feel it is important for the people of Derby to tell us what....they think about the cuts."
The council is expecting to shed another 350 posts on top of the 1,200 lost since 2010.
Deputy Conservative leader Matthew Holmes said: "I very much doubt that residents calling the council to have something important dealt with or to ask for advice will be happy to be force fed an anti-government message, nor be pleased at the delay in being able to speak to an advisor.
"It's completely the wrong way to deal with customers who will likely be quite angry when they are eventually put through to a member of staff due to the message.
"The customer is also paying for the phone call, which is being artificially extended with what a majority see as propaganda."
As of Monday evening, after being contacted by the BBC, the council has given callers the option to skip the message - which explains it has to save £60m over three years and will not be able to continue to provide some services.
It also invites people to take part in a consultation about which council services should be protected.