Residents oppose Clay Cross opencast mine plans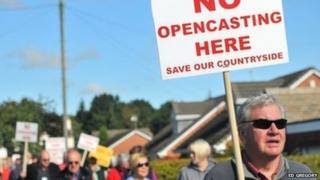 Plans for an opencast mine in Derbyshire are being opposed by residents who say it will ruin the area with noise and coal dust.
The three-year project near Clay Cross would produce 175,000 tonnes of coal, project developer Provectus said.
Hundreds of protesters opposed the mine when it was first proposed two years ago.
Provectus said noise from the work would not have "an unacceptable impact upon local residents".
'Black hole'
Hilltop Action Group member John Gregory said there were "too many houses too close to the site".
He said: "It's the noise, it's the dust, it's the disruption.
"The last thing we need is a 100ft black hole when they are trying to attract business to the area."
Resident Sally Elliot said; "If this is allowed to go ahead, the whole of our area is going to be swamped with surface mining.
"Coal dust is a major influence on people's health and asthma has increased hugely in the past few years."
The plans, which have been submitted to Derbyshire County Council, said the impact of dust produced at the site was "unlikely to be significant".
Provectus spokesman Bryn Hopkinson said there were "a substantial number of people who appreciate the positive benefits that would flow from this development".
Two public meetings are being organised by protesters in the next few weeks.
Derbyshire County Council will hold a consultation into the plans and a decision is expected in several months.
The proposed site covers about 30 hectares (75 acres) of agricultural land west of the A61.