Heanor Memorial Hospital to be demolished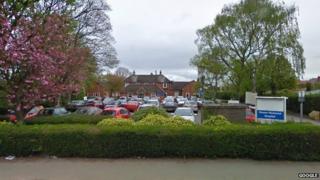 A hospital found to contain extensive amounts of asbestos is to be demolished and replaced with a health centre.
Hospital wards and most outpatient services were transferred from Heanor Memorial Hospital after brown asbestos was found in the boiler room during an inspection in September 2013.
Further surveys then discovered asbestos throughout the heating system.
The new health centre is expected to open in the Derbyshire town in about two years.
Andy Layzell, chief officer of Southern Derbyshire Clinical Commissioning Group, said: "Just about all of the services which were previously provided in the hospital, as well as those which are currently provided in the Wilmot Street Health Centre, will move into that new building.
"The only difference is that it won't have any inpatient beds in it."
'Increase in beds'
Inpatient beds will be provided at Ilkeston Hospital and a local authority community care centre being built in Heanor.
End-of-life beds will be provided in a care home.
"There will actually be an increase in the number of beds which will be available locally," said Mr Layzell.
A report said the cost of work to remove the asbestos from the hospital would have been "substantial".
"It was clear that the hospital was struggling to meet rules on fire safety, electrical safety and access for disabled people so it was expected that some big decisions would have to be made," the report said.
Professional advice was that the hospital building had "reached the end of its life" as a healthcare facility.
"Asbestos had been the catalyst for the consultation but the service review was overdue in any case," the report said.