Unite warns Rolls-Royce over Derby job losses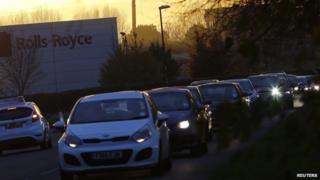 The Unite union has said Rolls-Royce will have to work hard to justify job losses in Derby.
The firm announced on Tuesday that it plans to cut 2,600 jobs, with 800 to 1,200 believed to be going from its sites in Derby and Bristol.
Tony Wood, president of aerospace at Rolls-Royce, said the Derby site had "long-term prospects" but was not immune from job losses.
The union warned the firm against making compulsory redundancies.
Unite national officer Ian Waddell said: "They must be clear with us we won't be seeing people sacked and then consultants and agency workers coming in to fill the gaps left behind."
'Unsettling time'
Tony Wood, president of aerospace at Rolls-Royce, said: "Rolls-Royce has long term prospects and the bulk of our capability, intellectual property and technology, certainly in the civil engine business, is based here in Derby.
"It's too early to say exactly what the effect will be. Derby is clearly not immune.
"It's clearly a very unsettling time. We will work hard to achieve reductions by voluntary means where we can."
Rolls-Royce employs more than 12,000 staff at Derby - its largest concentration of employees in the UK - with one in every 11 workers in the city directly employed by the firm, according to its website.
The firm said a large engineering team was required for the development of the Trent 1000 and Trent XWB engines in Derby.
However, both these major programmes have entered their production phase, reducing the engineering requirement.
Derby South MP Margaret Beckett said: "There had been rumours that Rolls-Royce had been taking a look at how the business is going now... it always saddens me when I see us losing engineering jobs."
Chris Williamson, MP for Derby North, said: "When you see what is happening with our international competitors and the support they get from their government we need to make sure we are up to speed here in Britain in ensuring we support our hi-tech industries.
"Rolls-Royce is right at the apex of this."
A statement from the Department for Business said it was committed to backing its "world-beating aerospace sector and that job losses are always regrettable."
Analysis: Chris Doidge, BBC Radio Derby
The last big job losses at Rolls-Royce were in 2008 and before that in 2001. That is a fairly regular cycle of expansion and retraction.
They are not the largest numbers we've ever had in one go but they will be significant.
Up until the start of 2014 shares had risen in value. They were on a five-year winning streak and the value of the company had trebled.
But since January shares have come down by a third. Tuesday's announcement has seen them bounce up a little bit.
What that suggests is these job losses were the kind of cost cutting investors were looking for.
Rolls-Royce said its problems had been twofold: competition from the US, but also a decline in global spending in defence projects. Those are the kind of things that come around every few years.