Derby County's Shaun Barker starts charitable foundation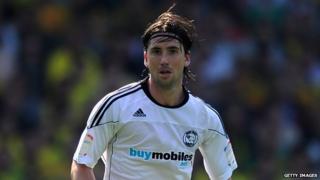 A footballer has set up his own charitable foundation to help underprivileged youngsters in Derby.
Derby County captain Shaun Barker, 32, has not played since suffering a knee injury against local rivals Nottingham Forest in March 2012.
During his recovery he has been busy working on a plan for charitable work in the arts, social care and sport.
The defender, who grew up in Nottinghamshire, said he wanted to make a difference.
'Act of selflessness'
He said: "I'm making it up. I have no idea what I'm doing but the more people that want to get involved the better.
"I've spoken to quite a few people and I want little classes for kids to go and do some free dance and arts classes, photography... things they would find hard to do themselves or haven't got the confidence to do."
Barker, who set up the Shaun Barker Foundation with the help of the Professional Footballers' Association (PFA), said social care was the area closest to his heart.
From the age of three his parents began fostering children and in the course of 16 years they helped over 180 children.
"This act of selflessness as well as a stable loving home unquestionably helped me on my own path in life," he said.
Barker will be organising events to raise funds and the profile of social care in order to support vulnerable children.
The footballer ruptured knee ligaments during a collision in a match against Nottingham Forest which left him facing the possibility of early retirement.
It is still unclear if the defender will return to playing.