Leabrooks mother Kat Slater meets woman who saved her baby's life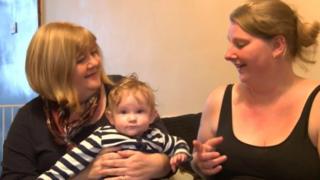 A woman has been reunited with the stranger who she said saved her baby's life after he stopped breathing.
When eight-month-old Toby Slater turned blue and started fitting, his mother Kat ran out of her home in Leabrooks, Derbyshire, screaming for help.
Retired nurse Sue Foster dashed over to give first aid.
After weeks searching on social media and appealing through a local newspaper, Ms Slater tracked down and thanked her "angel".
'No life'
Ms Slater, 30, went to make breakfast while Toby was playing in his bouncer. When she returned, she noticed he was not breathing and started fitting.
"I went to the front door and screamed for help. All I could think is this baby has just died in my arms because his eyes were shut and there was no life in him whatsoever," she said.
Ms Foster saw the commotion and ran over, giving Toby mouth-to-mouth.
"I've never had to put first aid into practice although I've been trained for a long time," she said.
"I was pleased I could use it and it all ended up happily. Instinct took over - you don't think about it."
Toby was taken by ambulance to the Derbyshire Children's Hospital where he recovered but, despite scans and tests, doctors could not determine the problem.
'Absolutely amazing'
Less than a month earlier in September, one of Ms Slater's three other children had been hit by a car.
"I'm very lucky because I could have lost two children," she said. "I've taken every day as a blessing after that."
In the panic, Ms Slater failed to ask the stranger's name so turned to Facebook and the Ripley and Heanor News to track her down.
"It's absolutely amazing. Finding the woman that's saved my baby's life is unreal," she said.
"There aren't many people out there now who will go and help anybody. They don't want to get involved in people's business. Thank god Sue was there at that time. She's my angel."