Ripley veteran 'stuck indoors for 10 months'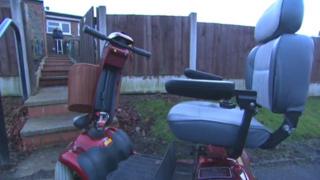 A war veteran says he has been unable to leave his house unassisted all year because of delays to build a ramp.
Roy Pugh from Ripley, Derbyshire had a heart attack and stroke in January and struggles to walk.
The 80-year-old says he was given a mobility scooter to help get out and about but he has been unable to use it.
Amber Valley Borough Council said an application for a grant had only been received this week, and if granted, a ramp would be installed right away.
Mr Pugh served with the army in North Korea for six years and also as a reservist for nine years.
He said he had been asking the local authority for months to build a ramp outside his bungalow, but had been told he was not housebound because he was able to get out of the door.
"I have got steps at the front and steps at the back. I'm on my own and I can't get the scooter in or out," he said.
"They [the council] said I'm not housebound because I can get out the door but I haven't been into Ripley town since January.
"I'm getting a bit fed up to be honest."
Mr Pugh said he gets help with shopping from family members but would like some independence.
"I just want to put my coat on and go out for a bottle of milk, or some crisps, or a newspaper. I would like to do it myself."
Dean Fowler, chairman of the Royal British Legion's Ripley branch, said they raised money to buy Mr Pugh the scooter after his health deteriorated.
He said: "It's disgusting. He's got a scooter outside and it's been sitting there doing nothing.
"He just needs access to be able to get onto the footpath and do general things we take for granted."