Derby City Council scraps recycling bins in Normanton and Arboretum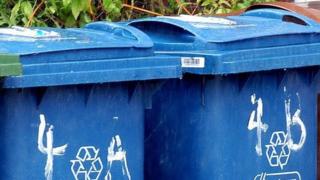 Recycling bins for 1,500 city homes have been scrapped because they are being left out cluttering streets.
Residents in the Normanton and Arboretum areas of Derby will have one bin for all waste but more recycling centres will open for a trial period.
The council said the extra bins are being contaminated with non-recyclable waste.
An environmental campaigner said the scheme is unfairly punishing people who want to recycle.
After a previous trial in the Arboretum area last year, several streets where the council said recycling is "not working" will now only have their black bins emptied. Another trial was held in Mackworth in August,
'The easy way'
Campaigner Simon Bacon said he complained about the November 2013 trial, which included his street. He said it would increase fly-tipping.
"In certain areas we have got issues where bins are left in the streets. The easy way of getting rid of bins is to get rid of the service," he said.
"They are punishing those people that want to recycle by taking away their ability to do so."
A Derby City Council report said that over the past year the amount of household waste it received for recycling and composting in the city fell from 46% to 38%.
It blamed the drop on a reduction in garden waste, after it started charging for garden waste bins this year, and a rise in contamination of recycling waste.
Councillor Asaf Afzal said blue bins left out after collection day make streets look "untidy".
"By trying this out in certain streets - not in all streets - where evidence has been provided that recycling isn't working in those areas, it will hopefully improve the whole street scene."
The final blue bin collection for the affected areas is Wednesday. Three recycling sites will be built at nearby locations, the council said. It has not said when the trial will end.