Derby City Council cuts mean more job losses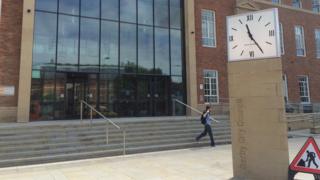 More than 250 job cuts have been announced by Derby City Council in a bid to save £79m in three years.
Unveiling next year's budget, the Labour-led authority said the 256 cuts were the "toughest" in the city's history.
The council said it has to save £22m in the next financial year but £11m of savings have already been identified.
Ranjit Banwait, the leader of the authority, said the job losses were a "tragedy".
"The budget proposal that we're putting to the people of Derby is about the future of public services in our great city," he said.
"We are looking at some stage in the near future at the end of most of our public services unless we get a fair deal for Derby.
"Job losses are a tragedy, we're making decisions that under normal circumstances we wouldn't want to make."
Other proposals include the closure of Moorways swimming pool, in the Allenton area of the city, and less money going to housing support and the voluntary sector.
However, about £10m has been earmarked for social housing improvements in 2017/18.
The city council has lost 1,388 full-time employees since spending cuts took effect in 2010.