Beetle eggs fear for Bakewell Old House Museum clothes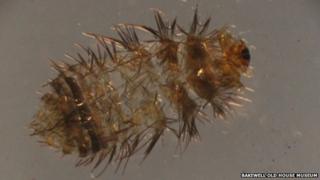 The race is on for a museum battling a beetle infestation to freeze and defrost 1,500 items of clothing before eggs hatch in the spring.
Volunteers at the Bakewell Old House Museum in Derbyshire have frozen hundreds of items of clothing thanks to the loan of an industrial freezer.
Its entire collection of textiles is vulnerable to the larvae's appetite.
Freezing the exhibits is a time-consuming process, manager Anita Spencer said.
Many of the displays are of lace, textiles and clothing - all ideal food for carpet beetles.
"They will destroy our textile collection. They love wool, silk, feathers - that's their favourite menu and they will just chomp their way through the collection," Ms Spencer said.
Since eggs were discovered in the summer, volunteers have been inspecting every item of clothing for signs of munching.
Each threatened exhibit is individually covered in acid-proof tissue paper and sealed in a polythene sleeve.
They are then frozen at -30C for three weeks before being left out to thaw. The hope is the beetle eggs will not hatch.
Last month, Hulley's Ice Cream in Nottingham offered the museum space for hundreds of items to be frozen.
Until then, exhibits could only be frozen in a chest freezer at the museum.
The museum is based in a former house dating from 1534 which was later converted into cottages by Industrial Revolution entrepreneur Richard Arkwright.
---
Carpet beetles
Adult carpet beetles feed on pollen but the larvae, known as woolly bears, feed on natural fibres including carpets, curtains and fur
They can be a serious pest in the home as well as at museums
Infestations can be prevented by regular vacuum cleaning, and methods of killing them include freezing them or using insecticide
---