Glossop machete attack: Derbyshire police offer reward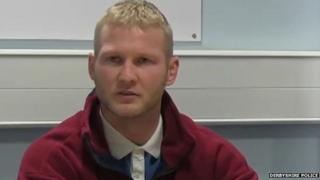 A £5,000 reward has been offered for information after a man was attacked with a machete in his home, suffering a fractured skull.
Three men forced their way into a house in Glossop, Derbyshire, attacking Dave Patterson in front of his wife and while his three children were upstairs.
He grappled with one man, severing tendons and nerves in both thumbs.
Derbyshire police have reissued an appeal for help and said the men may be from Manchester.
The trio broke into the family home in October before Mr Patterson, 31, was attacked from behind with a machete, suffering a large gash to his head and fracturing his skull.
He managed to slam a door on his attacker, before grabbing the weapon and trying to prise it from the man's hands.
"I felt a big belt over the back of my head... I turned round and slammed the door on the man who hit me, trapping him half way down the body.
"I saw this machete about half a metre long. I looked at my wife and just shouted 'run'."
Mr Patterson tried to prise the weapon from his attacker but he grabbed the blade and as it was pulled from his hands it severed nerves and tendons in both thumbs.
Meanwhile his wife was forced to the ground but she pleaded with the men to let her see her children and she ran upstairs.
Their ordeal only ended when they fled into the street with the children and a neighbour and the attackers made off empty handed.
Derbyshire police have reissued an appeal including an emotional video of the couple and a reward for information.
Det Sgt Ed Mellor said: "I wish to remind people there were three small children in the house at the time of the burglary and to target a family home early in the evening, exercising extreme violence with weapons, when children are in a place they should feel safe and secure, is a cowardly act."