Moorways pool closure: Petition to push debate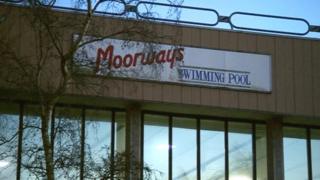 An online petition set up to save a swimming pool in Derby from closure has more than 3,000 signatures.
Derby City Council wants to shut Moorways swimming pool from April in a bid to save about £350,000 a year.
The Labour-led authority said it would build a new 50m pool by 2018 to replace the facility.
However, the Conservative group said they want it to stay open and 4,000 signatures would be enough to force a debate on the issue.
Matthew Holmes, deputy leader of the Tories, was out collecting signatures with campaigners in Derby at the weekend.
He said: "[We would] keep it open and commit to building a new state of the art swimming pool - that's what the public want... It has to be done and can be done.
"[The petition] can be submitted to the council and we can have a debate about it to convince the Labour administration to think again."
The swimming pool closure is part of the council's bid to save £79m in three years, with the authority describing its cuts as the "toughest" in the city's history.
Campaigners say they accept that Moorways pool, which is 33m in length, was in need of repair but closing it leaves one other public pool in the city - the Queen's Leisure Centre.
Swimming club Derventio Excel - which coached Commonwealth Games medallist Molly Renshaw - said the decision had left it no viable alternative site for training.
Commonwealth Games medallist Adam Peaty, who trains in Derby, said closing Moorways was a "waste".