Tower poppies artist Paul Cummins appointed MBE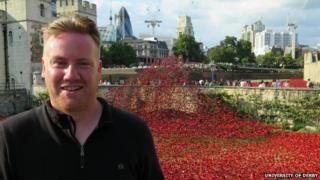 The artist behind the Tower of London poppy installation has been appointed MBE in the New Year Honours.
Ceramic poppies by Derbyshire artist Paul Cummins were installed in the moat to mark each British and colonial military fatality in World War One.
Blood Swept Lands and Seas of Red was put together with theatre designer Tom Piper, who also receives an MBE.
Mr Cummins said he was "grateful" for the five million people who visited and "took on board what the idea was".
The exhibition saw 21,000 volunteers from all over the world help "plant" the 888,246 poppies.
Mr Cummins said he drew inspiration for the project from a line in the "living will" of a man who died on the Western Front during the conflict, which he found in Derbyshire two years ago.
"I didn't know if this would work or not," he said.
"It was such a simple idea and anybody that could see it, could get it.
"It could've failed but it didn't and I'm grateful that people took on board what the idea was."
Also appointed an MBE is Gurmel Singh Kandola, chief executive of the National Sikh Museum, in Derby, for services to the community and Maria Hanson, for services to children and young people with life-debilitating conditions.
Miss Hanson, 60, from Ticknall, Derbyshire set up the charity, Me and Dee, eight years ago to provide memorable experiences for children with life-threatening illnesses.
Barbara Drummond, who organises holiday camps for children as part of the Derby Deaf Children's Society, has been appointed MBE for services to special needs and disabilities in Derbyshire and Lincolnshire.
Supt Gary Parkin, of Derbyshire Constabulary, will receive a Queen's Police Medal and Dawn Ward, OBE, principal and chief executive of Burton and South Derbyshire College, has been appointed a GBE (Dame Grand Cross) for services to further education.