Chesterfield market set for major overhaul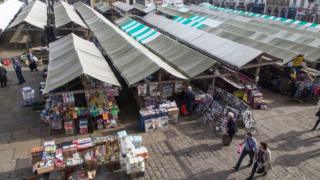 A Derbyshire market is set for a major revamp after officials were told it suffered from "poor" levels of use.
A report to Chesterfield Borough Council said occupancy among its 151 stalls sometimes fell below 50%.
It added the layout of long rows and narrow aisles made many areas unattractive to both traders and shoppers, as well as open to weather.
The authority has approved £15,000 to start a consultation to come up with an "accessible and flexible" design.
'Poor footfall'
The market is believed to date back to the 12th Century and brings in nearly £600,000 a year in rent.
About £250,000 was spent on the area in 2006 but it is now seen as difficult to keep traders due to the fact most stalls are hard to see.
The report states: "New traders will not accept the poor footfall, poor access and poor sightlines that come with aisle-facing stalls. They will simply trade in other towns."
The council said the study would look into increasing the number of stalls in a prominent position, putting in more power points and increasing aisle space.
Amanda Serjeant, Labour executive member for leisure, culture and tourism, said: "We have listened to concerns raised by traders and we will be inviting experts to come and look at a new layout for the market which will increase the footfall to the area."
The nearby Market Hall reopened in 2013 after a £4m restoration project.