Derby City Council deputy chief executive takes top job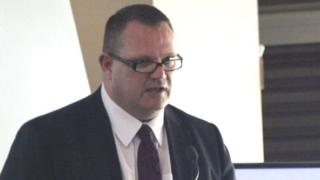 Deputy chief executive of Derby City Council Paul Robinson has stepped into the top job after his boss took voluntary redundancy.
Adam Wilkinson is on leave until his official leaving date of the end of January.
The Unison union has criticised the fact it is his second local authority compensation package in less than five years, totalling more than £500,000.
The council said the payoff passed the "value for money test".
'Disgust'
Mr Wilkinson made headlines when he first joined Derby City Council after receiving a £365,000 severance package from Kent County Council.
Unison said he should never have been allowed to take voluntary redundancy in Derby so soon after doing the same at another local authority.
The council has refused to comment on whether his employment term in Kent was used to calculate how much he was owed.
Length of service is usually carried over between local authorities when staff move.
'Value for money'
Nicole Berrisford, the council's Unison branch secretary, said: "My initial reaction was one of disgust.
"We don't think he should be allowed to take voluntary redundancy from two authorities in the last five years.
"He has seen in excess of half a million pounds in pay outs."
A council spokeswoman said Mr Wilkinson would receive three month's pay so he does not work his notice period and a compensation payment of £100,000.
She added: "The council's external auditors have been informed and are content, as are we, that the value for money test is being met."
A more permanent solution to Mr Wilkinson's position will be decided later in the year.