Tower poppies artist Paul Cummins receives honorary degree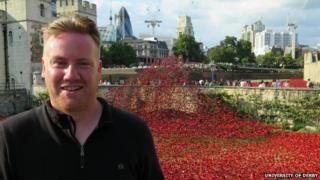 The artist behind the Tower of London poppies installation has been given an honorary degree by the University of Derby.
Paul Cummins, who was appointed MBE in the New Year Honours, has been made an Honorary Master of Arts.
He graduated from the university in 2010 with a BA (Hons) Craft degree and set up his own business, Paul Cummins Ceramics, based on Pride Park in Derby.
He is currently working on a PhD at the university.
Mr Cummins said he drew inspiration for the poppies installation, called Blood Swept Lands and Seas of Red, from a line in the will of a Derbyshire serviceman man who died in World War One.
Made in Derby
The installation marked the centenary of the outbreak of the war.
The 888,246 ceramic poppies - one for each British and colonial fatality - were handmade in Derby.
All of the poppies were sold, raising millions of pounds for six charities.
The installation was put together with theatre designer Tom Piper, who was also appointed MBE.
"It was unexpected," said Mr Cummins after the ceremony at Derby Arena.
"A lot of it has been unexpected.
"It was an idea I was making. I didn't realise people would take it to heart so much."