Young people help funeral go ahead by clearing snowy church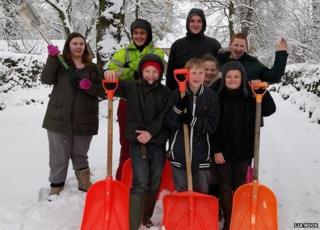 A vicar has praised eight young people who cleared snow from a church driveway, meaning a funeral could go ahead as planned without delay.
The young people had the day off school because of the thick snow that fell in parts of Derbyshire.
Instead of going sledging or building snowmen like some of their friends, they responded to the call for help from St Peter's Church in Fairfield.
The Rev Carl Flynn Edwards said the deceased's family were very grateful.
"I would like to say an enormous thank-you from me, on behalf of the church, to these young people," he said.
Mr Edwards said the church was surrounded by about eight inches (20cm) of snow and the church driveway is very long, meaning it would have been very difficult for funeral cars and people on foot to get to the service.
So he asked for help on his Facebook page.
"This group of young people responded with great enthusiasm and came and did it," he said.
"They are a great group of young people and it says a lot about this community."
The young people are part of a community group called Fairfield Dreamscheme, which has members aged from 9 to 19.
Lia Roos, who runs the group, said they have helped out in many other ways.
"They planted pots at the shops, they've repainted a children's playground and for the last three years they have been clearing snow for the old age pensioners that live around us," she said.