Partner's horror at facing Sandra Bainbridge's killer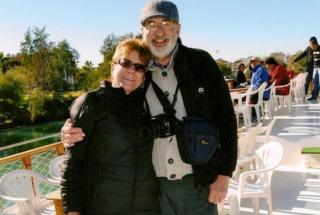 A man has described how he escaped from a knife-wielding woman who had already stabbed his partner to death.
Sandra Bainbridge had returned from an "idyllic" holiday in Turkey when she was brutally killed by Andrea Cutler in December last year,
Cutler had been squatting at the house in Belper, Derbyshire, and was still there when Derek Joyner came to check on Ms Bainbridge the next day.
On Friday, Cutler was detained under the Mental Health Act.
Mr Joyner, 70, said it was "like a horror film" as he saw the glint of a knife blade and desperately tried to save himself.
"The bedroom door slowly opened and a woman all dressed in black, with black hair, was peering round the door," he said.
Cutler claimed to be a neighbour but Mr Joyner knew something was "really, drastically wrong".
"I just blurted out 'No you are not. Where's Sandra? What have you done with her?'
"She turned round very slowly and the door swung open."
Mr Joyner then saw she had a knife.
He shut the door and held the handle, which rattled as Cutler tried to open the door from the other side.
"My arms are not weak yet that door handle was turning and I was holding on for grim death," said Mr Joyner.
"It must have only taken a matter of moments but it seemed like a lifetime."
Mr Joyner went down the stairs but Cutler followed and he had to hold her back from opening two more doors before he eventually escaped.
A judge at Nottingham Crown Court detained her indefinitely under the Mental Health Act, after she previously admitted manslaughter on the grounds of diminished responsibility.
Psychiatrists believe she was suffering from schizoaffective psychosis at the time of the killing.
Mr Joyner was shocked to hear details in court about Cutler's long history of mental illness, previous convictions for violent offences and her continued refusal to take antipsychotic medication.
"Somehow, at some point, somebody should have picked up that this woman needed to be forced into taking her medication," he said.
Derbyshire Healthcare NHS Foundation Trust said in a statement: "The trust takes incidents of this nature extremely seriously and will fully participate in any reviews regarding the care and treatment offered to Ms Cutler, including the full independent homicide inquiry which is commissioned in accordance with Department of Health requirements."