Derbyshire fire chief Sean Frayne raped woman in pub, court hears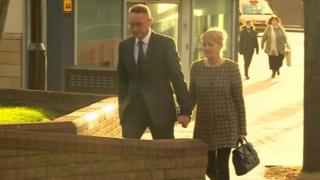 A chief fire officer raped a woman in a pub while his wife sat in another room, a court heard.
Sean Frayne confronted his victim in 2013 after receiving anonymous letters calling him a rapist and demanding compensation.
Derby Crown Court heard a recorded interview with a woman who said he raped her in December 2006.
Mr Frayne, 48, who was suspended from Derbyshire Fire and Rescue in 2013, denies raping her.
'Complete shock'
Martin Hurst, prosecuting, told the court Mr Frayne, of Huddersfield, pulled down the woman's trousers and raped her before returning to his wife in the pub.
The jury was told they will have to decide if the sex was consensual or not.
The victim confided in a friend in 2013 who then wrote to Mr Frayne suggesting she would avoid publicity in return for money.
Mr Hurst said the woman was left in "complete shock" when she was visited by Mr Frayne and his wife Helen to confront her over the letters.
In her interview, she told detectives he said, "if I owe you an apology then I am sorry".
'Not interested in money'
In her account, the woman added: "He said 'are you saying that I raped you?' and that's when I looked at him and said 'you know exactly what happened'.
"I can remember her [Mrs Frayne] saying 'you are not going to get any money out of us.' It was just crazy."
Mr Hurst told the court the first the victim knew of the letters was when she was confronted by the pair.
"The defence are going to say this is all about compensation, that she and [her friend] were in league to try and get some money out of a successful man," he said.
But the time between the offence and it being formally reported to police meant the woman was not interested in money, he added.
The trial continues.