Derby A38 flyover plan consultation to start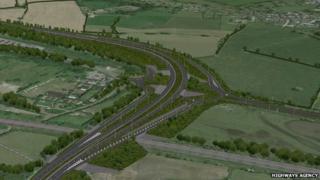 A £220m scheme could see three Derby roundabouts, which have just been upgraded, completely remodelled.
The Highways Agency has put forward plans for flyovers and underpasses at Markeaton, Little Eaton and Kingsway junctions.
A £4m project to ease congestion caused problems last year but officials said the road could be carrying up to 10,000 more vehicles a day within 10 years.
A public consultation on the idea will start on Monday and run for six weeks.
Originally suggested in the 1970s, flyovers on the A38 were rejected because of their visual impact on nearby park land.
A public consultation in 2003 backed revised plans but funding was never secured.
Smaller scale improvements were carried out in 2014 but faced criticism for causing tailbacks, harming businesses and overrunning.
Now the Highways Agency wants public feedback on a new long-term strategy to create underpasses at Markeaton and Kingsway and a flyover at Little Eaton.
Kenny Guihen, assistant project manager for the Highways Agency, explained their thinking.
"This is designed to take the local traffic away from the traffic going on to and off the M1, so there would be a lot less interference.
"There were problems with the previous work but that was out of our control.
"The money is there but we want to hear from residents and businesses to get the best scheme possible," he said.
Officials said a final decision could be taken by July 2016 and work would take about two years.
The Queens Head pub in Little Eaton threw a party when last year's work was completed.
Manager Tom Burgess said: "It's not ideal as the last set of road works was a massive hindrance to the area and local businesses, especially since they overran.
"We get a lot of outside trade and we lost about 20% of our business and now we will have to wait to see if it happens again."
Martin Rawson, cabinet member for planning at the city council, said: "This is needed as we have housing planned for this side of the city in Mickleover, Chellaston and Sinfin.
"I'm a motorist and I've been caught up on these islands and I see this as a long-term solution to those problems."
A consultation event will be held at University of Derby Enterprise Centre on the 6 and 7 February.