In pictures: Heavy snow falls in north Derbyshire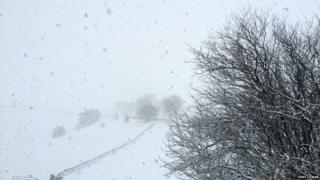 Heavy snow has been making its way across north Derbyshire disrupting services and leading to road and school closures.
Parts of the Peak District have seen between 5-10 cm of snow, making some routes dangerous to drive on.
About 43 schools in Derbyshire had to close at lunchtime due to the heavy snow.
The A6, between Stockport and Newtown, in the High Peak area, had to close earlier due to wintry conditions.
Sarah Tugwell, a wedding planner based in Whaley Bridge, said the town "had a good four inches" of snow earlier.
Bus services in New Mills, Buxton, Bakewell, Matlock Bath and Belper could not be served and buses in Ashbourne had to be suspended.
Ken Hardy, from Dronfield, said "about 12 inches" of snow came "thick and fast" in the north east Derbyshire town.
He added: "The road gritters don't seem to be able to keep pace with it!"
Derbyshire County Council tweeted that its recycling centre at Waterswallows, Buxton, had to close due to snow.
Terry Jackson shared his snowy view of Furness Vale in the High Peak area.
Some vehicles in Dronfield were unusable due to the heavy snow that fell earlier on Thursday.