Derbyshire fire chief rape trial: Letters 'meant to scare'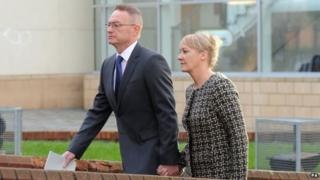 The friend of a woman who said she was raped by Derbyshire's chief fire officer sent a letter to frighten him, a court heard.
Sean Frayne, 48, denies attacking the woman in a Derbyshire pub in 2006, claiming the sex was consensual.
The alleged victim's friend told the court he sent the letters to Mr Frayne without her knowledge and denied it was an attempt at blackmail.
He said he wanted to scare Mr Frayne into going to the police.
The friend, who is not being named to avoid identifying the alleged victim, told Derby Crown Court that he first heard about the attack seven years after the event.
'Everybody likes money'
He said the woman did not want anybody else to know and the pair tried to report the Mr Frayne, of Fixby, Huddersfield, anonymously.
He told the court he wanted to confront Mr Frayne himself so he wrote two letters.
The court was told that the woman found out about the notes when Mr Frayne and his wife turned up on her doorstep.
The letter-writer told the jury the woman went to see him afterwards and was "hysterical", thumping him because of what he had done.
Under cross-examination, he was asked why the letters demanded money from Mr Frayne.
"It's to scare him. All men, everybody, likes money and they don't want to lose it," he said.
"I just wanted to scare him to go to the police."
The trial continues.