Ozbox scheme boss defies cash crisis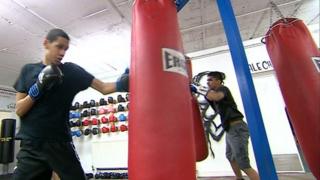 A boxing-based Derbyshire youth scheme that is to officially end due to funding shortages could continue in some form, organisers have said.
The Ozbox project uses gym sessions to keep 11-19 year olds out of trouble and has about 9,000 users a week.
After a failed bid to renew lottery funding, the county council and police said it would end on 31 January.
But founder Steve Osbaldeston has revealed private individuals have pledged money to keep some gyms open.
Running since 2003, the scheme used nine permanent and five mobile gyms across the county, costing about £430,000 annually.
Many credited it with turning their lives around. An online petition opposing the closure got more than 1,100 signatures within a matter of weeks.
One of the scheme's coaches, who asked to be called James, said his conviction for armed robbery meant Ozbox was his only hope.
"Without Ozbox I don't know where my life would be. With my conviction no one wanted to touch me but the people gave me a chance.
"I haven't messed up, I don't want to mess up and me and my kids love coming here."
Mr Osbaldeston, a retired police officer, said he understood the financial issues but there was still hope.
"We failed to get he second lottery bid, the council have got austerity measures as have the police.
"So we are looking for extra funding from individuals from our side and we have secured an amount of funding.
"I can't go into much detail at the minute albeit to say three gyms are secure," he said.
The county's Police and Crime Commissioner Alan Charles, who had faced criticism for not intervening after the closure was announced, has confirmed he is due to meet organisers next week.