Non-league Alfreton Town selling merchandise in Texas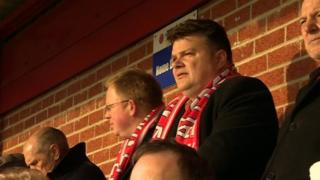 A non-league part-time English football club is successfully selling merchandise more than 7,500km away in the United States.
Alfreton Town FC was bought by two Texans who run Legend Football Partners, linking the Derbyshire team with the Fort Worth Vaqueros.
They recently met fans and watched the team beat Southport in Saturday's Conference clash.
The owners said they hoped to one day win promotion.
Currently the Reds are sitting in the relegation zone at the bottom of the Conference league but the owners have high hopes of moving up.
They said they bought the club because of its strong community roots and traditions and also to provide a link with their other club Fort Worth Vaqueros.
"We've introduced Alfreton to hundreds of thousands of Americans," Michael Hitchcock said.
"We ended up seeing a lot of Alfreton supporters buying merchandise from Vaqueros but on the flip side we've seen a lot of soccer fans in the US buying Alfreton Town gear.
"There are a number of supporters in the US that don't have a club in England and now this is their club."
Business partner Jonathan Collura said another reason for buying into the English market was to get the opportunity for promotion - something that does not happen in United States.
The pair said they often jokingly said they could one day be playing Barcelona in the Champions League - but in reality they had their sights set on a more sustainable place in the Football League.
They added that they had some plans to make changes, but anything that affected the traditions of the club would be put to the fans.