The Black Swan in Idridgehay saved after threat of development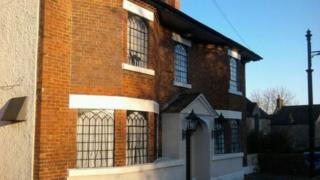 A decision by a Derbyshire council to give a former 19th Century pub extra protection from development has been upheld by a tribunal judge.
The Black Swan, in Idridgehay, was listed as an "asset of community value" by Amber Valley Borough Council after it was sold to developers Crostone Ltd.
It was feared the building, which has been empty since 2012, could be sold off again, so the authority stepped in.
The developers appealed but the ruling was backed at a tribunal hearing.
The village pub, which dates back to 1827, became a French-themed restaurant in 1997 and after closing 15 years later, it was sold to Crostone.
The pub was included on the council's list of assets of community value, which means if the owner intends to sell, they have to give notice to the local authority.
---
Assets of community value
Government policy to give people more power in their neighbourhood
Prompted by loss of "buildings of great importance" like pubs or village halls
Time is given to communities to prepare bids for buildings
Group also gets time to raise the necessary funds
Pubs, swimming pools, skate parks and community centres have all been listed as assets by authorities
---
A community interest group then has six weeks in which they can be treated as a potential bidder.
If that is possible, the sale cannot take place for six months, which would allow a group to come up with an alternative proposal and raise the money.
Crostone had argued the Black Swan had not furthered "the social wellbeing or interests of the local community" since 1997.
But Judge Peter Lane accepted the council's evidence the local community wants the pub to be restored to its former use and that it was a "realistic" prospect.
He added that a £100,000 investment could be enough to renew the bar and restaurant.
Jill Matthews, a parish councillor, said: "We hoped and expected it to be reopened by the new owners as a pub but what happened was nothing.
"It feels like it's had the plug pulled on it way before its time, it's a great shame and we'd like to see it back up and running."