Royal School for the Deaf Derby: Pupils 'at risk of grooming'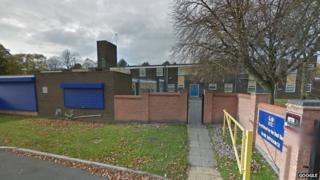 Pupils at a residential school for the deaf were put at risk of child sexual exploitation and grooming, according to inspectors.
The principal at the Royal School for the Deaf Derby has been suspended for "failing to promote the safeguarding needs of the pupils", Ofsted said.
It was rated "inadequate" in all categories following a two-day inspection in December.
Governors at the 131-pupil school said they were working to resolve issues.
The report rated the school inadequate in five key areas - overall effectiveness, outcomes for residential pupils, quality of residential provision and care, residential pupil safety and leadership.
It highlighted the principal's failure to share child protection concerns, which it said "directly impacted upon pupils as they were placed at risk of potential grooming and child sexual exploitation".
The problems at the school, which has children with "complex special needs", resulted in "social workers and independent reviewing officers attempting to make crucial decisions about the welfare of children looked after without full information before them".
Ofsted said it has made the Department for Education aware of the issues at the school, where alternative safeguarding arrangements have since been put in place.
---
Ofsted's key findings
Safeguarding allegations had not been listened to and acted upon and pupils remain at risk of significant harm
Residential pupils' sense of safety was compromised because they were aware that safeguarding issues raised by their peers had not been actioned
Safeguarding processes failed to protect pupils because the principal had not taken effective action to safeguard residential pupils, and failed to follow safeguarding procedures
Inadequate risk assessment and risk management meant that pupils were left at risk of harm
Standards in the residential accommodation varied dependent on the blocks pupils resided in. Corridors and bedrooms in one of the purpose-built blocks were shabby, with damaged decor. Communal living space and bedrooms lack personalisation.
---
Responding to the report, chair of the governors, Dr Rosemary Guy, said: "The safety and welfare of our pupils is our foremost priority and robust action has already been taken to address the concerns raised by the report."
In a statement, she said: "The staff in general, and care staff in particular, are devastated by the overall rating which detracts from the main body of the report, as it includes many otherwise positive and reassuring findings about the residential provision on offer."
Dr Guy added that the report praised the school for its dedicated and experienced staff who demonstrated a good understanding of pupils' individual identities and needs.
It also found that being part of the school community helped pupils learn and develop socially.