Erewash council scuppers closer working plan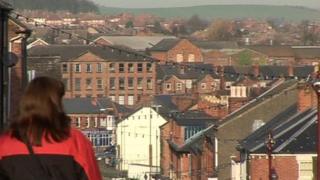 A council has been accused of turning its back on millions of pounds worth of investment after it voted against the creation of a combined authority.
Tory-led Erewash Borough Council narrowly voted against joining a united authority for Derby and Derbyshire.
Leader Chris Corbett said approving the plans would have been an "irreversible decision" and potentially detrimental to Erewash.
A combined authority would deal with issues such as housing and transport.
Labour group leader Alex Phillips said: "Erewash Tories have turned their backs on a golden opportunity for better transport links, investment and housing for Erewash residents.
"They have demonstrated just how out of touch they really are with the need for investment in our borough."
---
What do supporters claim a combined authority in Derbyshire will do?
Skills - Create opportunities for improving the skills and training of the local workforce
Transport - Improve the efficiency and effectiveness of public transport so people can reach jobs and move around the county more easily
Homes - Increase the supply of affordable housing linked to economic development and to local needs
Jobs - Increase the number of jobs and better paid jobs across the city and county
Investment - Work together to attract investment and new development to grow the local economy
A combined authority is a formal, legal step to allow councils to work more closely together in a more structured way
It is not a merger, or take-over of councils, or a unitary authority
The 10 councils involved are Amber Valley, Erewash, Bolsover, Chesterfield, Derby, Derbyshire Dales, High Peak, North East Derbyshire, South Derbyshire and Derbyshire County Council.
---
Responding to the criticism, Erewash council leader Chris Corbett said joining a combined authority could impact on the economic prosperity of the borough.
He said: "We believe that making an irreversible decision to join the combined authority of Derby and Derbyshire would have a major impact on housing and transport in Erewash to the detriment of our valuable green belt areas.
"The council has made the right decision for Erewash residents at this time."
It is not known whether the remaining nine authorities will proceed with the plan.