Ashbourne's Royal Shrovetide Football ends with lost ball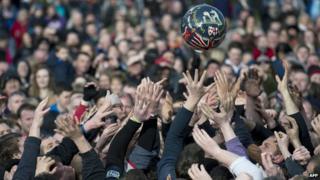 The eccentric Royal Shrovetide Football's second day ended without a goal after the ball went missing.
The annual event plays out over two days and involves thousands of people competing for the Up'ards or the Down'ards in Ashbourne, Derbyshire.
Up'ards goaled the ball on Tuesday but play ended on Wednesday when the ball disappeared with no successful goal.
The tradition is thought to date back centuries but records were lost in a fire in 1890.
---
Shrovetide glossary
Turned Up or Thrown Up: Ball being thrown into the massed players to start the game
Down'ard/Up'ard: The two teams
Hug: The name given to the mass of people who push the ball around the town. Similar to a scrum in rugby
Goals: The structures at each mill which need to be hit three times with the ball to be valid
Henmore: The river that runs through the centre of Ashbourne; the side of it a person is born on determines the team he or she plays for
---
Mystery still surrounds what happened on Wednesday with reports of both teams rushing to the opposing goals expecting to find the ball.
It was reported on Twitter that the ball disappeared at about 20:00 GMT in Mayfield and nobody goaled the ball before the 22:00 deadline.
Some competitors blamed the loss on foul play.