Lost Royal Shrovetide Football ball found in hedge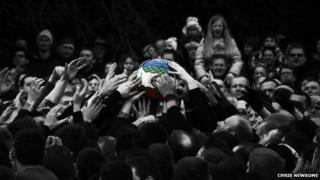 A ball that disappeared in the middle of Royal Shrovetide Football, bringing the game to a confused end, has been discovered lodged in a hedge.
The annual game is played between Up'ards and Down'ards in Ashbourne, Derbyshire, over two days.
This year, the Up'ards took the honours on Tuesday but Wednesday's game ended when the ball was lost in Mayfield.
Some suspected foul play but organisers said it was an "ill-fated attempt" to launch the ball towards goal.
Shrovetide committee member Mike Betteridge, who turned up the ball on Wednesday, said: "There was frantic searching for nearly an hour before a group of Up'ards found it.
"It had lodged itself in the upper branches of the hedge, which was a leylandii, and no-one could see it."
Because nobody goaled the ball, Mr Betteridge gets to keep it.
---
Shrovetide glossary
Turned Up or Thrown Up: Ball being thrown into the massed players to start the game
Down'ard/Up'ard: The two teams
Hug: The name given to the mass of people who push the ball around the town. Similar to a scrum in rugby
Goals: The structures at each mill which need to be hit three times with the ball to be valid
Henmore: The river that runs through the centre of Ashbourne; the side of it a person is born on determines the team he or she plays for
---