Council 'cannot afford' to restore rare bird reserve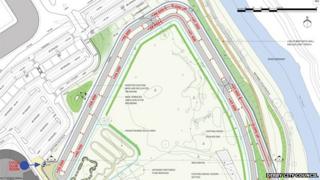 A year after plans to build a cycle track on a nature reserve were halted by the High Court, a council has said it cannot afford to restore the land.
Derbyshire Wildlife Trust took legal action after Derby City Council approved the track on part of The Sanctuary in February 2014 despite concerns for habitats of rare birds.
Work had started on the council-owned land, but it has not been restored.
The trust said it hopes the council will eventually pay for remedial work.
Litter pick
Work to build the cycle track was stopped following an interim court order issued by the High Court.
Weeks earlier, the city council had approved the plans for the track, which would have passed through part of the reserve.
Cabinet member for leisure and culture on the authority, Allison Martin, said the council had no plans for the land, which borders its new £28m velodrome.
"We don't have a budget to make good the land and I'm afraid for the time being it's going to stay as it is," she said.
Trust spokesman Kieron Huston said it was too late to restore the damaged area this spring as the birds, including curlew sandpipers and skylarks, will soon be returning to reserve.
"We are working with the city council to move forward on the management of site - we are hoping they might help out the cost is not too high," he said.
Mr Huston said he would like some of the embankments built during the initial cycle park work to be removed as they obstruct bird viewing areas.
Trust volunteers recently removed 30 bags of litter from the reserve, which is located in an urban area near Derby County's home ground iPro Stadium.