Dog chews tied to rat poison found in Derbyshire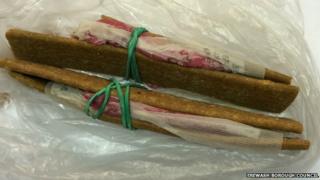 "Deadly sandwiches" made of dog chews wrapped around rat poison have been found in Derbyshire.
Erewash Borough Council has issued a warning to dog walkers after the chews were found in Stanley Common earlier this week.
Elastic bands had been used to package the contents together.
The council said it was a "very serious and worrying incident". No dogs were harmed and Derbyshire Police has been informed, it said.
One of the baits, which the council called "deadly sandwiches", was found on Glendon Street and another at an entrance to a nearby alleyway.
Councillor Barbara Harrison, lead member for the environment, urged dog walkers to be vigilant.
"This is a very serious and very worrying incident and we are grateful to the member of public for taking immediate action so that we could remove the baits before any dog was affected," she said.