Derby's Garrandale Group secures £15m Bombardier contracts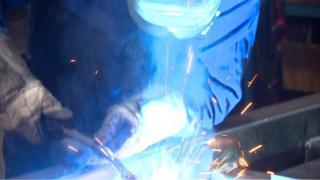 A Derby-based engineering firm has beaten off competition from Europe and the Far East to secure £15m worth of contracts with train makers Bombardier.
The Garrandale Group will supply all the assembly and production line equipment as part of a £1bn Crossrail deal.
Malcolm Prentice, the firm's chief executive, said the deal would benefit the city and the rest of Derbyshire.
Derby-based Bombardier will provide 65 trains for the Crossrail service.
Mr Prentice said: "All the work will be done by our Derby factory and I guarantee we'll use and resource every supplier in Derby or Derbyshire.
"Also any contract work we need... this is truly going to be a Derbyshire project for Garrandale."
Noel Travers, Bombardier's managing director, said: "It's very important for us to have a local supplier.
"Having them down the road for if we need to make slight changes... they can come and do that in a short period of time."