Colin Bloomfield Melanoma Appeal: Derby County FC pledges thousands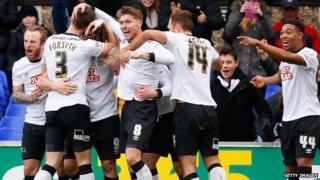 Derby County Football Club is donating £10 for every ticket it sells for this weekend's Championship game at Norwich to a radio presenter's cancer appeal.
The proceeds will be donated to support the Colin Bloomfield Melanoma Appeal, started to raise awareness in schools.
Club director Mel Morris said he hoped it would help promote the campaign.
Rams supporters had threatened to boycott the match in protest at the £40 ticket price, but the club has already sold 1,300 of its 1.900 allocation.
BBC Radio Derby launched the appeal earlier this year to help protect children from skin cancer.
It was prompted by Colin's diagnosis with stage four melanoma in 2013 and has raised £14,000 to date.
The 33-year-old presenter's openness and optimism as he battles the disease has touched thousands of listeners.
The BBC is working with the Derby Telegraph and charity Skcin, which specialises in skin cancer prevention.
The appeal aims to help educate children in Derbyshire and East Staffordshire about how to stay safe in the sun.
Derby County's Mel Morris said it was "Colin's selflessness" that prompted the club to support the cause.
He said: "We were in a meeting at the Royal Derby Hospital and someone mentioned a big increase in referrals since the appeal started.
"I though this was quite extraordinary and said to Sam Rush [the club's chief executive] that we should do something to help out."
He said that while he sympathised with the cost of tickets for the game at Norwich, he hoped fans would not boycott the game and would get behind the appeal.
Mr Morris added that it would be good if Norwich also wanted to make a donation to the appeal.
The total pledged by Derby County stands at about £13,000.