Colin Bloomfield appeal: Derby County donates £14,000 to cancer charity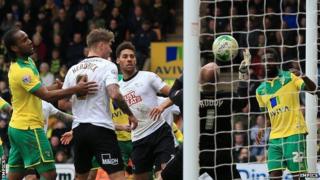 More than £14,000 was raised by Derby County Football Club at the weekend for a melanoma cancer appeal.
The Colin Bloomfield Melanoma Appeal is raising awareness of skin cancer and is backed by the BBC Radio Derby presenter Colin Bloomfield.
The club donated £10 for each of the 1,401 Derby fans who turned out for the match against Norwich on Saturday.
The appeal, which was started earlier this year, has already raised more than £30,000.
The Rams drew 1-1 with the Canaries at Norwich.
BBC Radio Derby launched the appeal to help protect children from skin cancer after Colin's diagnosis with stage four melanoma in 2013.
The 33-year-old presenter's openness and optimism as he battles the disease has touched thousands of listeners.
The BBC is working with the Derby Telegraph and charity Skcin, which specialises in skin cancer prevention.