Derbyshire Honduras charity sends last ever shipment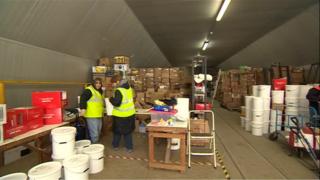 A charity which has sent more than 1,000 tonnes of aid to children in Honduras over the last 40 years is to send its last ever shipment.
The Children of Honduras Trust holds an annual loading day in West Hallam, Derbyshire, before sending items including food and medical supplies to the Central American country.
But founder Jennifer Cox said she now wants to focus more on fundraising.
At 75 tonnes, the latest shipment will be the biggest in its history.
Ms Cox founded the charity in 1975 and since then aid including clothing, food, toys and medical supplies, has been shipped out every year.
"We have got so much in this country we are so blessed and you look at the third world developing countries and they've got so little so I've always felt it's up to us to help," she said.
Half of Honduras' eight million population lives in poverty and thousands of them are children.
This weekend, 150 volunteers will fill five 40ft containers at a depot in West Hallam with items bound for Honduras.
Volunteer David Taylor said the charity's work is "tremendous".
"Every year photographs come back from all sorts of little villages up in the mountains in Honduras and when you see the poverty that those people are in it just makes you want to collect more and more and more," he said.
The charity has also built houses for children in the country.
Ms Cox said she wants the charity to concentrate on fundraising from now on.