Markeaton Park installs giant high rope attraction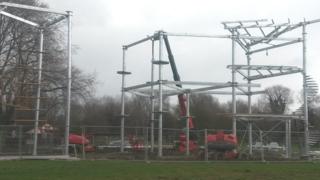 A giant high ropes attraction is being erected in an 18th Century park in Derby in a bid to attract new visitors.
Derby City Council is building the 30ft (9m) structure as part of a £3.4m scheme to improve facilities at Markeaton Park.
Work includes restoring buildings, improving gardens, paths and play equipment.
However, some visitors have raised concerns over its appearance and potential safety issues.
Andrew Beddow, head of leisure facilities at the council, said it was the first of its kind in the area and would appeal to groups looking to do outdoor activities.
He said the galvanised steel poles were just the first phase of the construction and the finished facility would be clad in wood to minimise its impact on the surroundings.
Mr Beddow added the park would recoup the £265,000 cost of the installation from visitors using the frame.
One visitor to the park, Emma Chapman, from Alfreton, said: "It's massive, and right in the middle of the field.
"It doesn't look like it fits in with the rest of the area."
Others, including, Sarah Constable, were worried about safety at the site and people misusing the facility.
The council said the structure would comply with all relevant safety legislation, including preventing access when not in use.
Work on the park, which first opened in 1755, is due to be completed later this year. The climbing facility is expected to open in May.