Geoff Capes backs Ashbourne Highland Gathering return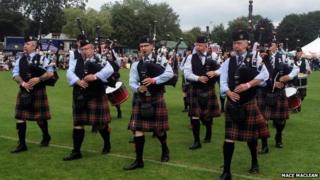 The cancellation of a Highland event in Derbyshire is just a temporary setback, Geoff Capes has said.
The former World's Strongest Man has been involved in the Ashbourne Highland Gathering for more than 25 years.
He said it was one of the best events outside of Scotland and still attracted big crowds, who enjoyed the traditional sports and shows.
Poor weather in recent years and a lack of sponsorship have been blamed for the show being axed.
Last year saw competitors battle it out in traditional Highland events such as caber tossing and tug-o-war.
Capes, 65, competed professionally at Highland games events for many years.
He said: "Ashbourne to me is one of the finest events outside of Scotland - it's always been a favourite among competitors from all over the world."
He described it as "one of the biggest and best events" on the calendar, adding this year's cancellation was "just a hiccup".
Capes called for sponsors from local businesses to invest in the event to help secure its future.
Organisers said they hoped the 2016 games would be "bigger and better than ever".