Robin Baldry, ex-Derbyshire council chairman, in leaflet return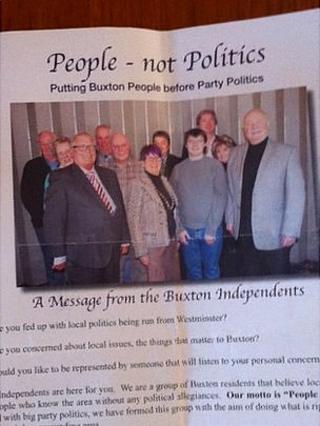 A former Derbyshire County Council leader who falsified his expenses is fronting a campaign in the upcoming elections.
Robin Baldry was given a suspended jail sentence in 2012 for over-claiming on mileage and meals and banned from any public office for five years.
He has now put out leaflets backing independent candidates for High Peak Borough Council and seeking donations.
Baldry, who is not standing, has not commented.
£10 donation
The former Conservative councillor was chairman of the county council from June 2009 to April 2011. The offences took place between 2005 and 2010.
In December 2012, he admitted two counts of theft which amounted to more than £2,200 and was given an 18-week suspended prison sentence.
At the time he apologised and said he had been "stupid".
Now leaflets have been posted through doors in the High Peak Borough Council area urging residents to vote for independent candidates.
The leaflet includes a photo of Mr Baldry on the front row of a group of candidates. It also states it was produced by Mr Baldry and asks for a £10 donation to be sent to him.
While he will not be standing, his wife Linda is an independent councillor in the borough's Corbar ward and is running again as an independent candidate on 7 May.
When asked by BBC Derby if he was going to stand as a councillor at the end of his ban, Baldry said he would not comment for another 18 months.
Corbar ward candidates (two seats)
Linda Baldry Independent
Clive Johnson Conservative
Tony Arthur Kemp Conservative
Nicky Kierton Green
Claire Moore Labour
Martin Walter Thomas Labour
Nick Watterson Independent