Royal School for the Deaf Derby in special measures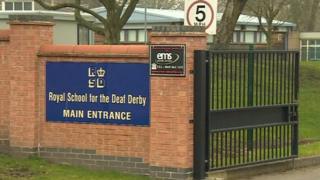 A residential school for the deaf where inspectors found children were put at risk of grooming has been put into special measures.
The Royal School for the Deaf Derby was rated "inadequate", in all categories, after an Ofsted inspection in December.
A week-long, unannounced inspection in March then found improvements had not been carried out.
Acting principal, Helen Shepherd, said the school was working with the Derby City Safeguarding Children's Board.
The report in December rated the school inadequate in five key areas - overall effectiveness, outcomes for residential pupils, quality of residential provision and care, residential pupil safety and leadership.
---
Ofsted's key findings
Safeguarding allegations had not been listened to and acted upon and pupils remain at risk of significant harm
Residential pupils' sense of safety was compromised because they were aware that safeguarding issues raised by their peers had not been actioned
Safeguarding processes failed to protect pupils because the principal had not taken effective action to safeguard residential pupils and failed to follow safeguarding procedures
Inadequate risk assessment and risk management meant that pupils were left at risk of harm
Standards in the residential accommodation varied dependent on the blocks pupils resided in. Corridors and bedrooms in one of the purpose-built blocks were shabby, with damaged decor. Communal living space and bedrooms lack personalisation.
---
It highlighted the principal's failure to share child protection concerns, which it said "directly impacted upon pupils as they were placed at risk of potential grooming and child sexual exploitation".
The latest inspection found "emergency safeguarding systems put in place by leaders" recently were "unsound".
Tony Quipp, clerk to the governors, said "a full review of the school's leadership and governance" was being conducted in line with the report's recommendations.
He said a new executive head teacher would be appointed, along with a strengthened governing body as soon as possible.