Apology demand after Newhall 'offended' by judge's comments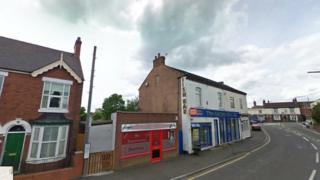 A local campaigner has demanded an apology over "offensive" comments a judge made during a court case.
During a sentencing, Judge Stuart Rafferty said: "You can take the boy out of Newhall but it seems you cannot take Newhall out of the boy."
John Appleby of the Derbyshire village said the comment was unfair and irrelevant.
The Judicial Office confirmed Judge Rafferty's words but said he would not comment.
The judge directed his comments to 50-year-old Robert Chalmers, from Newhall, as he was sentencing him at Derby Crown Court for hitting a man with a golf club.
'Personal comment'
Mr Appleby, who is campaigning to establish a parish council for Newhall and neighbouring Stanton, said the village did have "a reputation" but "no more than any other community".
"I couldn't see the relevance to the case - he was making a personal comment," he said.
"I would have thought in his position, his role is to look at evidence presented in a case and not make a judgement outside the case."
He asked for Judge Rafferty to make a public apology and said villagers were planning to write to the Ministry of Justice about the matter.
Newhall is a settlement of about 6,000 people, between Swadlincote in Derbyshire and Burton-on-Trent in Staffordshire.
Other residents told the BBC the comments were "very offensive", "totally wrong" and "a bit judgemental".
A spokesman for the Judicial Office confirmed Judge Rafferty made the comment during the hearing, adding: "Judges don't comment on their own cases or those of other judges outside of the courtroom."
Mr Chalmers, who was given a 12-month sentence suspended for two years for the offence, which he admitted. did not want to comment.