Scarthin bookshop halts donations at £12,000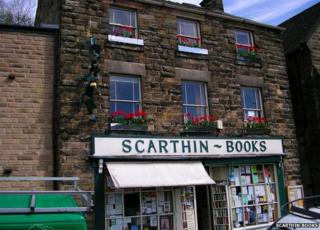 An acclaimed bookshop in danger of collapse has stopped accepting donations after £12,000 was raised for urgent structural repairs.
Owners of Scarthin Books in Cromford, Derbyshire, said most of the money for the 150-year-old building had come from customers but some also from abroad.
An initial £2,000 target was reached on the same day the appeal was launched in March.
Manager David Booker said he had been "humbled" by everyone's generosity.
"I can hardly believe the response," he said.
"Scarthin Books has a place in people's hearts and we are very much a part of the community."
He said the future of the shop, which has been trading for 40 years, was now safe for another four decades.
The shop, which spans four floors and includes a vegetarian cafe, was named one of the best in the world by The Guardian, in 2008.
Parts of the building are currently being supported by temporary steel posts but structural engineers advised something stronger was needed.
A woman from Matlock, who wanted to remain anonymous, donated £100 to the shop's appeal.
"The bookshop deserves to go on," she said.
"It would be a real tragedy for the community if it couldn't go on because we all love spending time there.
"Places like this are dying out and Cathy and Dave [the owners] are very special people. There is a determination in them that we all respect."