Royal Derby Hospital plans new parking spaces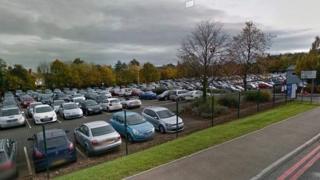 A city hospital that once received the highest number of complaints about parking in the country could get more spaces, according to a report.
The Royal Derby Hospital said it is putting together a planning application to increase spaces at the site.
The hospital's trust board report said it has parked 90,000 more cars than in 2014 but is still encountered problems.
A hospital spokesman encouraged people to travel to the hospital by public transport.
Which? said there were 82 complaints about parking there in 2009 - more than anywhere else in England.
The number of spaces available got so low that year that patients and visitors were forced to park on nearby streets and staff had to apply for permits.
The report found people are still experiencing problems but a business case and planning application were being developed to increase capacity.
Staff told the BBC there is currently a two-year waiting list for a permit.
A hospital spokesman said two new car parking attendants have been employed to help it cope with the extra demand for parking.
"In the past year we've parked 90,000 more cars than we did in the previous year. The extra traffic is due to the success of the hospital, with more patients choosing to come to the Royal Derby for their care," the spokesman said.
"But we want people to think about leaving their cars at home. If you're coming to the hospital, please think about using a bus."