Man caught fire outside care home 'due to smoking materials'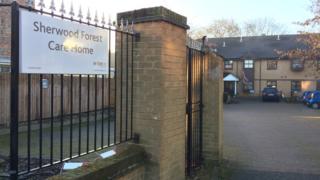 A man who died after being found on fire outside a care home probably caught alight due to "discarded smoking materials", an investigation has found.
The BBC understands the 60-year-old had gone outside in his wheelchair to have a smoke shortly before he caught alight.
Firefighters were called to Sherwood Forest Care Home in Derby following a 999 call at about 13:00 GMT on Monday.
Derbyshire Police is investigating the man's death on behalf of the coroner.
However, there are not thought to be any suspicious circumstances.
Derbyshire Fire and Rescue Service said: "A fire investigation into the cause of a fire at a care home on the 15 February 2016 has concluded that the most probable cause of the fire is discarded smoking materials."
The care home is run by Embrace Group Ltd, which said in a statement: "Our deepest sympathies are with the resident's family and loved ones.
"Whilst an investigation is ongoing, it would not be appropriate to comment further."
The Care Quality Commission, which is responsible for regulating care homes, said it was "monitoring this situation closely".
A spokeswoman said: "CQC is aware of the sad death of a gentleman at Sherwood Forest Care Home in Derby.
"We are working closely with the police and local authority and await the outcome of any investigations related to this.
"We are monitoring this situation closely and we will take any action necessary should this be required to ensure the welfare and safety of people who use services."