Peak District moors £13.5m restoration project begins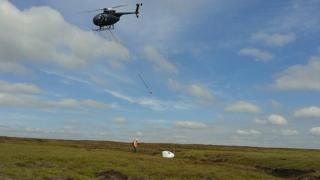 A project to protect large areas of vulnerable moorland in the Peak District and South Pennines has begun.
The £13.5m, five-year MoorLIFE 2020 project aims to secure 9,500 hectares of peat bog, promoting biodiversity while cutting pollution and flooding.
The Moors for the Future Partnership (MFP) said the work to reverse years of erosion and fires was four times bigger than previous schemes.
Helicopters have delivered plastic dams to block erosion gullies in the area.
These are caused by water run-off and are the main symptom of peat erosion as the soil is washed away.
The MFP said large areas of moorland have been damaged by atmospheric pollution from nearby industry.
Dying vegetation is also more vulnerable to fires, which leave the ground exposed to erosion, it added.
This in turn leads to blocking of water systems and can also increase the chances of flooding as rainwater runs off the moors more quickly.
Diarmuid Crehan, MoorLIFE 2020 project manager, said: "The sheer scale of this project has meant that it is important that in-depth preparatory work is carried out first and we are delighted that work on the ground is under way.
"Over the life of the project, we will be re-vegetating almost 50 hectares of bare peat, blocking 85km of erosion gullies as well as conducting a fantastic amount of research and monitoring to measure the impact it has."
The first erosion gullies are being blocked on Howden and Derwent Moors to raise the water table and rewet the moors.