Veteran John Kearns' funeral packed by mourners after appeal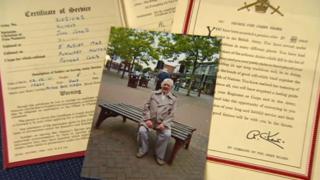 About 150 strangers attended the funeral of a 95-year-old veteran who died with no known family.
John Kearns died in October with only Royal Derby Hospital staff at his bedside, 18 months after his wife died.
It was feared only a handful of friends would attend the funeral but after an appeal, veterans, serving soldiers and strangers filled the chapel.
Belfast-born Mr Kearns served in the Army for more than 30 years including in Cyprus, Bahrain and the Suez Crisis.
The 95-year-old from Long Eaton, Derbyshire, enlisted in the Auxiliary Military Pioneer Corps in 1943, serving until 1975 when he was discharged with "exemplary conduct".
Following his time in the military, Mr Kearns - known as Paul - wed Eileen and was happily married for more than 40 years.
Friends said he was lost without her, following her death 18 months ago.
After an appeal by the hospital and the Royal British Legion, the service at Markeaton Crematorium, in Derby, was packed.
Neighbour Josephine Flear said: "We're very proud and John would have been as well. He wouldn't have been able to take it in I don't think.
"People go out the way to do these things it makes you think there's a lot of good in the world. He was a good man who served his county for a lot of years."
Standard bearers from the Royal British Legion and serving soldiers accompanied the veteran's coffin to the chapel.
Phil Skawski, chairman of the Derbyshire branch of the RBL, said: "It's great that the community came together to pay our respects but I think we shouldn't lose sight of the fact that John was alone. We need to bridge those gaps of loneliness."