Chesterfield canal: The hunt for the lost 'cuckoo boat'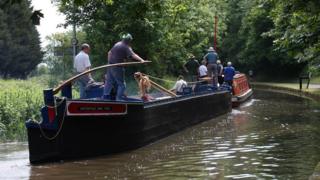 A team of volunteers has begun a quest to find a lost "cuckoo" narrow boat believed to be buried in a once thriving canal basin.
The Chesterfield Canal Trust said the 19th Century boat could be hidden in the Bellhouse Lane basin in Staveley, Derbyshire.
Andy Robinson, from the trust, said the boat was probably abandoned after a canal tunnel collapsed nearby.
Cuckoos were so-called because their design made them look out of place.
The wooden narrow-keeled craft, which had a cabin below deck and could support a mast and sail, carried coal via the Chesterfield Canal, to a gasworks at the site in the 1800s.
However, by the end of that century the plant had closed and the canal was in decline.
The collapse of the brick-lined Norwood Tunnel in 1907 led to the canal becoming derelict and the basin was eventually filled in during the 1970s.
Mr Robinson said the boats were unique to Chesterfield and stories of a buried cuckoo have become "legend" and he is eager to lead an archaeological dig to find it.
He said the lost boat may be well preserved underground and personal artefacts and tools could still be hidden in the boat's cabin.
However, even if it is found the mystery of who owned the boat would remain.
"There's an elderly gentleman who lives nearby and he thinks it belonged to his grandparents, who were boat people," he said.
"The truth is we don't know [but] hopefully they left a message in a bottle for us to find!"
The trust is trying to raise about £10,000 to excavate the site, which they said was once part of a "thriving industrial complex", next August.
---
Cuckoo boats
The term "cuckoo" is believed to have originated from comments made by boat people on the River Trent.
They said the vessels were "cuckoos in the nest" - different and out of place on the waterways.
The craft were made of oak from the 1770s to the 1920s, with the design hardly changing in that period.
Cuckoos were horse drawn and never equipped with engines, a mast was used when they ventured on to the Trent.
In 2015, the first cuckoo boat to be built in about 80 years was launched on the Chesterfield Canal.
Source: Chesterfield Canal Trust
---